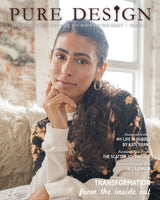 Pure Design Magazine
In the same way we've learned to adapt, change and metamorphose our lives over the past couple years, Christ has called us to be transformed as believers - to be different and set apart from the normal way the world lives.

In this issue, Transformation from the Inside Out, we discuss how we are supposed to sound, look and act differently from the world - so we can impact those around us. 
This volume is filled with fun fall fashion, yummy recipes, make-up recommendations, quizzes, interviews and more!
Grab your copy and see how God can transform you - from the inside out. God desires to use you in powerful ways, but you must first allow him to change you.
ORDER NOW