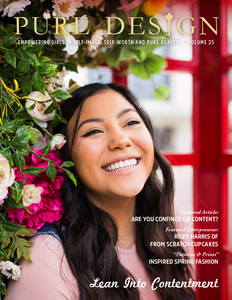 This beautiful 52 page, 8 1/2 x 11 issue is filled with beautiful photography, amazing spring styles, delicious recipes, fun quizzes, interviews and more!! 
In this issue, we want to encourage you to dream because dreams keep your heart alive. They cause you to soar, think beyond, take risks, dare to try and bust through fear. But in the midst of moving forward into who God has created you to be, take time to stop and thank Him for where you are today, for all the things you have already accomplished and been given. It's important to Lean into Contentment, to not compare your life with anyone else and be satisfied in the life you have today. None of us are guaranteed tomorrow, so live today to the fullest.
Grab your copy today while they are still available!