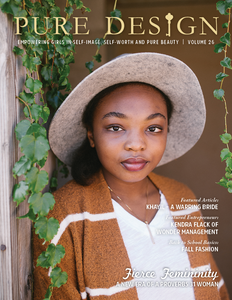 This beautiful magazine is 52 pages in length and filled with beautiful photography, amazing fall fashion, comforting recipes, quizzes, interviews and more!! 
In this issue, we want to encourage you to embrace and become all that God has created you to be! Fiercely Feminine takes a look at the Proverbs 31 Woman and defines her in modern day terms - not just in the context of a wife, but as a young entrepreneur, a future businesswoman, wife, mother or single woman.
This issue also has a powerful article entitled "Be the Change" that addresses some current issues of racism in our culture. We are sure you will be inspired, encouraged and empowered by the words of our writers as they use Proverbs 31 as a backdrop to reflect on and consider moving towards. 
Grab your copy today while they are still available!